Email Enable a Udocx Application
Back to knowledge base
Creating email enabled scan to SharePoint apps
Watch now
Udocx applications added at the organization level (under "Settings" in the Udocx admin portal) include an 'Email Enable' option in their configuration. When a Udocx application is email enabled, a unique SMTP email address, typically based on the name of the organization and application function, is created and hosted by Udocx. This allows any SMTP-compliant MFP device to interface with Udocx, even if the MFP device is incapable of displaying the Udocx user interface or has other restrictions that limit third party messaging applications.
Furthermore, all email-enabled Udocx applications are equally accessible from desktop and mobile email clients -- no MFP required. An 'Allowed Senders' option controls access to the Udocx application based on the originator's email domain and/or specific email addresses, preventing spam and other unauthorized emails from triggering a Udocx process.
The 'Email Enable' option is only displayed when adding or editing a Udocx application at the organization level (under "Settings" in the Udocx admin portal). The 'Email Enable' tab does not appear at the MFP or User level (unless the current admin user is editing their own account).
NOTE: Before any Udocx applications can be email enabled, two global settings must first be configured:

Admin Portal > Settings > Email (tab) > Email Enabled Applications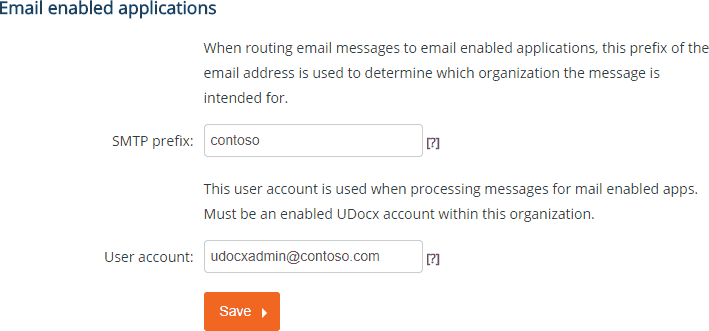 SMTP Prefix is typically the organization name and/or the Udocx account name. This will be used to construct unique SMTP addresses for your Udocx applications.
User Account is a user account within your organization that will be used internally by Udocx when processing SMTP-based messages. This account must be Udocx-enabled and preferably an administrator account (since it will function much like a service account and should not be disabled or deleted).

The 'Email Enable' configurator is the same for all Udocx applications.

Enable the email functionality for the Udocx application.
Create a unique application ID. The application ID will form part of the Udocx email address for this application. It requires a minimum of four characters.
The resulting email address is constructed from the customer's SMTP prefix (configured above), the plus (+) symbol (delimiter), and the application ID, @mail.udocx.com.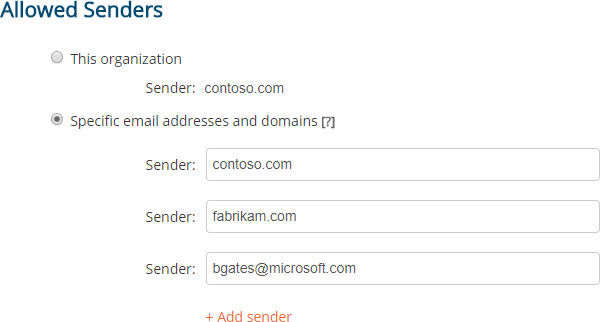 Under 'Allowed Senders' you may select the email domain of the organization (Contoso.com) or create a list of email domains and specific email addresses. Emails originating from domains or users that are not specified here will be filtered and will not trigger the Udocx application. Filtered emails are permanently deleted and may not be recovered.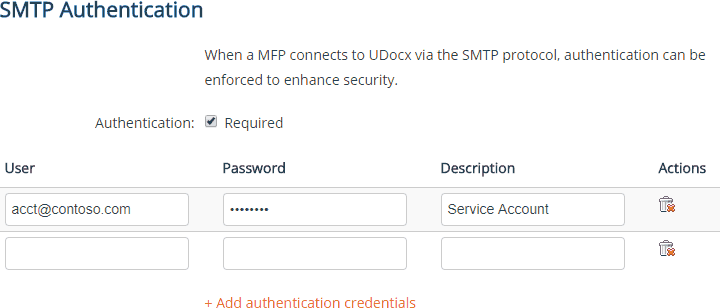 Udocx can function as an SMTP server for MFPs and similar SMTP-compliant devices, maximizing both performance and security by eliminating all other SMTP servers and relays. For an extra level of security, you may choose to require SMTP authentication between the MFP/client and Udocx. The credentials defined here must match those configured on the MFP device, email client, or SMTP-compliant process.

When your MFP or SMTP-compliant device is configured to connect to Udocx directly via SMTP, these connection parameters must be used along wth any of the username/password credentials under 'SMTP Authentication'.
Thank you for taking the time to give feedback.

Don't let one unhelpful article stop you.
Send us a message
or try searching our knowledge base to find what you are looking for.